Monitoring, Evaluation & Learning Manager
Lieu
Description
Le poste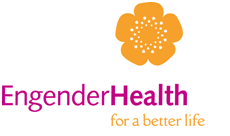 JD Version Date (last revision date): 07/30/19

EXPIRETION DATE: August 31,2019

TITLE: Monitoring, Evaluation & Learning Manager

WORK LOCATION: Kinshasa, Democratic Republic of the Congo

REPORTS TO (Title Only): Country Representative | Project Director Expand FPII (dotted line to the WCA Regional MEL Advisor)

SUPERVISES: M&E Assistant
COMPANY SUMMARY
EngenderHealth's vision is a world where sexual and reproductive health rights are respected as human rights, and women and girls have the freedom to reach their full potential. To achieve transformational change leading to true social and economic progress, EngenderHealth partners with diverse organizations across sectors with the shared goals of highlighting women's value to sustainable development.
PROJECT OVERVIEW
EngenderHealth, with support from the Bill & Melinda Gates Foundation, is implementing the ExpandFP II project to expand access to quality family planning (FP) services for women and girls in DRC, by building local capacity to scale FP and postpartum family planning (PPFP). EngenderHealth engaged with stakeholders at different levels of the health system, including the National Program for Reproductive Health (PNSR) at the national level and provincial, health facility, and community-level partners, to work towards this goal.   The objectives of the project are:
Strengthen the technical and managerial capacity of key FP service delivery stakeholders;
Expand sustainable availability, access, and use of quality FP services; and
Generate knowledge and guide planning for strategic, sustainable scale-up of effective FP practices.
JOB SUMMARY
Reporting to the Country Representative, the Monitoring Evaluation & Learning (MEL) Manager will develop and implement an overall M&E strategy for the the project and oversee the implementation of the M&E systems, evaluation, and document learnings. The MEL Manager will also support the ExpandFP project to ensure that lessons learned are integrated into project implementation to continuously improve quality of interventions and outcomes. The MEL Manager will also be responsible for ensuring the timeliness and quality of the routine reporting of country level data into the organizational DHIS2 database.
Responsibilities
Under the direct supervision of Country Representative, the senior officer ensures that the following tasks are carried out:
Design, implement and disseminate qualitative and quantitative research studies, including routine exit interviews as well as studies on street youth. Adhere to ensuring national and western IRB approval as needed.
Ensure accurate, high quality data are routinely entered into the DHIS2 database to track strategic plan indicators, as well as indicators specific to Expand FP. This inlcudes:
1. Conducting monthly data quality assessments in collaboration with the M&E officer
2. Collecting and compiling monthly project report data (service statistics, training reports, supervisions, etc.)
Collate, review and present organizational as well as project specific indicators to the Expand FP team.
Support the PNSR in the utilization, development and strengthening of the national DHIS2 to address postpartum family planning
Support quarterly, semi-annual and annual donor reports, with a focus on M&E sections.
Provide M&E summaries for the project, including presentation of updates to the donor and other key stakeholders.
Collaborate and communicate on a regular basis with the regional MEL advisor, addresses feedback and comments as provided by the advisor.
Assist the project in the updating and review Performance Monitoring Plans (PMP) and M&E frameworks, to capture project performance and results. Participate in PMP meetings.
Develop dissemination plans that capture lessons learned and best practices, and determine dissemination opportunities in country.
Supervise, mentor and support the M&E officer across all project and M&E activiites
Ensure that all MEL activities consider a gender and youth sensitive dimension
REQUIREMENTS
Advanced postgraduate degree in public health, demography, epidemiology, biostatistics, social science or related field
Five years of work experience in monitoring and evaluating international health, with strong preference for candidates with deep understanding of sexual and reproductive health/family planning
Experince in the development of quantitative and qualitative protocols, analysis, report writing and dissemination of data
Monitoring of PMP/M&E strategies and plans, updating and revising these as necssary
Conducting data quality assessments
Expertise to process and analyze data using one or more statistical software packages, including at least one of the following: SPSS, Stata or/and SAS
Experinece in analysing qualitive data
Proficiency in Microsoft Office applications (Excel, Outlook, PowerPoint, Word)
ESSENTIAL SOFT SKILLS
Must be a team player
Experience managing and growing the capacity of M&E officers
PREFERRED SKILLS, ABILITIES AND FUNCTIONS
Excellent communication and writing skills, as well strong team management skills.
Bilingual French and good proficiency in English – documenation (Final M&E plans, research protocols, donor reports etc. are all submitted in English).
Disclaimer
The above statements describe the general nature and level of work being performed by the person(s) assigned to this job. They are not to be construed as an exhaustive list of all responsibilities, duties, and skills required of personnel so classified. All personnel may be required to perform duties outside of their normal responsibilities as needed and assigned.
Please click on the link below for applying:
https://chu.tbe.taleo.net/chu01/ats/careers/requisition.jsp?org=ENGENDERHEALTH&cws=1&rid=1356
EngenderHealth provides equal employment opportunities (EEO) to all employees and applicants for employment, without regard to race, creed, ancestry, citizenship, religion, color, gender, gender identity, gender expression, age, national origin, political belief, sexual orientation, genetic information, status as a victim of domestic violence, marital status, disability or any other protected characteristic or status under applicable federal, state and local laws.
EngenderHealth complies with applicable federal, state and local laws governing non-discrimination in employment in every location in which the company has facilities. This policy applies to all terms and conditions of employment, including, but not limited to, hiring, placement, promotion, termination, layoff, recall, transfer, leaves of absence, compensation, and training.
—————————————————-
Concession Cotex, Bâtiment 5B, avenue Colonel Mondjiba 63,
Ngaliema, Kinshasa, RDC Tél. : +243 12 510 2805
505 9th Street NW, Suite 601  –  Washington, DC 20004
www.engenderhealth.org